COMMENTARY by Carlo

The Original Martin Beck
---
The true Martin Beck character can best be experienced by reading the 10 novels shown below:
The Novels by Sjöwall & Wahlöö
---
Martin Beck, described in the novels, is excellently portrayed in six Swedish films produced in the 1990s.
Gösta Ekman as Martin Beck
(6 Films)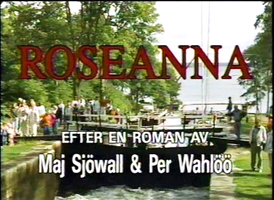 In Swedish with English Subtitles
In 1993-4, six novels by Sjöwall & Wahlöö were made into films in Sweden starring Gösta Ekman as Martin Beck. English subtitled versions of these films were broadcast in the United States by MHz Networks many years ago, but we haven't found DVDs available commercially. In Germany, all six films are available on DVD; however, they have no English subtitles and the Swedish has been dubbed over with German. If you're an MHz Choice subscriber, you may want to lobby them to add these to their excellent repertoire of crime series.
1993 – Roseanna (Roseanna)
1993 – Brandbilen som försvann (The Fire Engine That Disappeared)
1993 – Polis polis potatismos! (Murder at the Savoy)
1993 – Mannen på balkongen (The Man on the Balcony)
1994 – Polismördaren (Cop Killer)
1994 – Stockholm Marathon (The Terrorists)
---