COMMENTARY by Carlo

ROKU vs Apple TV
These two devices allow one to watch video content on their large TV screen. Both require an HDMI TV, a local WiFi network and fast internet. I use both equally, but for different functions which I will describe below. Your preferences may be different than mine.
---
Roku® Streaming Stick®
The ROKU comes in many different models, but I prefer the streaming stick since it plugs directly into an available HDMI port. The accompanying remote is straight forward and easy to use.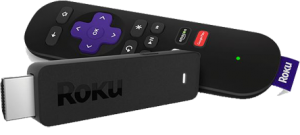 ---
I prefer the ROKU when I watch content from my favorite streaming services, which are shown on TV screen below. Each of these services has a reliable ROKU channel. They are Netflix, Walter Presents USA, Amazon Video, Acorn TV, and MHz Choice.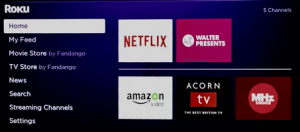 ---
Sometimes one has to enter in text for things like login and searches. For this, I often use the ROKU app on my iPhone. Once the app is paired with the ROKU, I can use the iPhone keyboard to more easily enter the text. The keyboard is activated by tapping the small image to the left of the red arrow.
---
Apple TV

The Apple TV has many functions, but I only use it for several things that the ROKU cannot do. Just for the record, the Apple TV (4th Generation) has apps for the five streaming services that I use my ROKU for. The device and remote are shown below. The box attaches to the TV with an HDMI cable and is powered via a power cable (both not shown).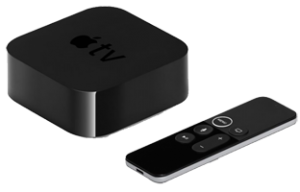 ---
I use the Apple TV to access the vast number of video files stored on my iMac computer. The Computers app on the bottom right of the screen can access TV shows, Movies, Home Videos, Photos and Music via iTunes on my iMac. I can also watch the TV shows I have purchased from iTunes store. I also own the Air Video HD app which is the second one from left on the bottom of the screen. This app allows me to access a very large video library stored on an iMac external disk independent of iTunes. This app is also available on my iPhone.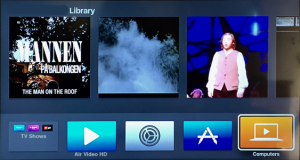 ---