Kurt Wallander
(Rolf Lassgård)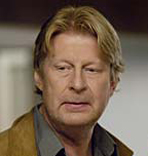 Set in Ystad, Sweden
In Swedish with English subtitles
Between 1994 and 2007, the first nine Wallander novels were made into films in Sweden starring Rolf Lassgård as Wallander.

Before anyone else played the part, Rolf Lassgård established the role of Kurt Wallander in the original Swedish film adaptations of Henning Mankell's bestselling crime novels. With his ragged, very human portrayal of the world-weary detective, Lassgård set the standard for all other actors who would follow. Kurt Wallander is a cop who gets the job done; decades of coming up against criminal minds have honed his instincts for investigations and he knows where to draw the line between the job and personal vendettas..usually. He does the work on his own terms, however, so he's constantly on the outs with supervisors and under the threat of suspension. Becoming a great cop has also created damage in all his personal relationships. But just because he's neglected all the people he loves doesn't keep him from trying to connect with his daughter, Linda, and his on-again, off-again colleague/girlfriend, Maja. He may be a lousy father and a lousier boyfriend, but nobody in Ystad does police work like Kurt Wallander. And nobody plays him like Rolf Lassgård.
REGION ONE DVD:
The Man Who Smiled – Kurt Wallander is contacted by an old friend who suspects his father's accidental death wasn't really an accident at all. He discovers unsettling evidence that his friend and his friend's father were connected with numerous shady companies. In a desperate quest for the truth, Wallander manages to betray himself and those he loves the most, and puts his own career in jeopardy.
Firewall, Parts 1 & 2 – A taxi is found abandoned, smashed up and full of blood. Two young girls are brought in for questioning, and confess to murdering the taxi driver, but they refuse to say where the body is. The next day a man named Falk is found dead at an ATM, receipt in his hand. Falk was a brilliant, mild-mannered computer programmer who kept to himself. Two apparently unrelated case, or are they?
The Pyramid – A light plane crashes near a beach and few days later, two elderly sisters are killed in their sewing supply shop. Both crime scenes show evidence of explosive weaponry. Were the sisters caught in the crossfire of gang warfare? Wallander makes a strange discovery about one of the suspects, which leads him back to a traumatic experience from his early days on the force.
REGION TWO DVD: Based on the books by best-selling author Henning Mankell, detective Kurt Wallander is an intense and headstrong maverick who is prone to eating poorly, sleeping irregularly and drinking too much. In some of the very first Wallander episodes ever to be produced, this collection joins Rolf Lassgård as Inspector Wallander as he sets out to solve 4 mysterious cases (across 6 episodes) starting with a violent and deadly showdown in Pyramid. This collection includes 4 Wallander cases:
Pyramid, Firewall Part 1&2, One Step Behind, The Man Who Smiled Part 1&2
REGION TWO – Select the DVD to purchase from