Agent Hamilton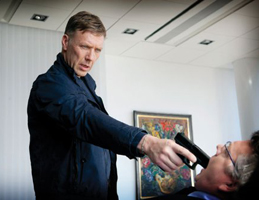 Set in Sweden
In Swedish with English subtitles
Mikael Persbrandt stars as Swedish super-spy Carl Hamilton in a pair of hard-hitting action thrillers based on the classic espionage novels by Jan Guillou. Hamilton's missions take him around the world, from Afghanistan to Africa and beyond, and see him battling international arms conspiracies, terrorist threats and a kidnapping that hits close to home.
IN THE INTEREST OF THE NATION
Masked soldiers attack a vehicle loaded with high-tech missiles in an attempted smuggling operation in Uzbekistan. Meanwhile, a Swedish engineer is kidnapped in Ethiopia. Hamilton is ordered to investigate the kidnapping and soon discovers an international arms conspiracy at top government levels, as well as plans for a terrorist attack on Swedish soil. His loyalties are tested, but the interest of the nation must come first.
BUT NOT IF IT CONCERNS YOUR DAUGHTER
Carl Hamilton s family was wiped out in a revenge attack years ago. Now, those painful memories resurface as Hamilton's seven-year-old goddaughter is abducted by a renegade Saudi prince in a plot targeting the girl's mother, the head of the Swedish Security Police. As the Swedish authorities remain passive, Hamilton tracks the kidnappers down and assembles a team for a deadly rescue mission against the desert fortress where the girl is being held.
2 Episodes
REGION 2 – Select a DVD to purchase from